How to Select the Perfect Crime-Safe Door for Your Home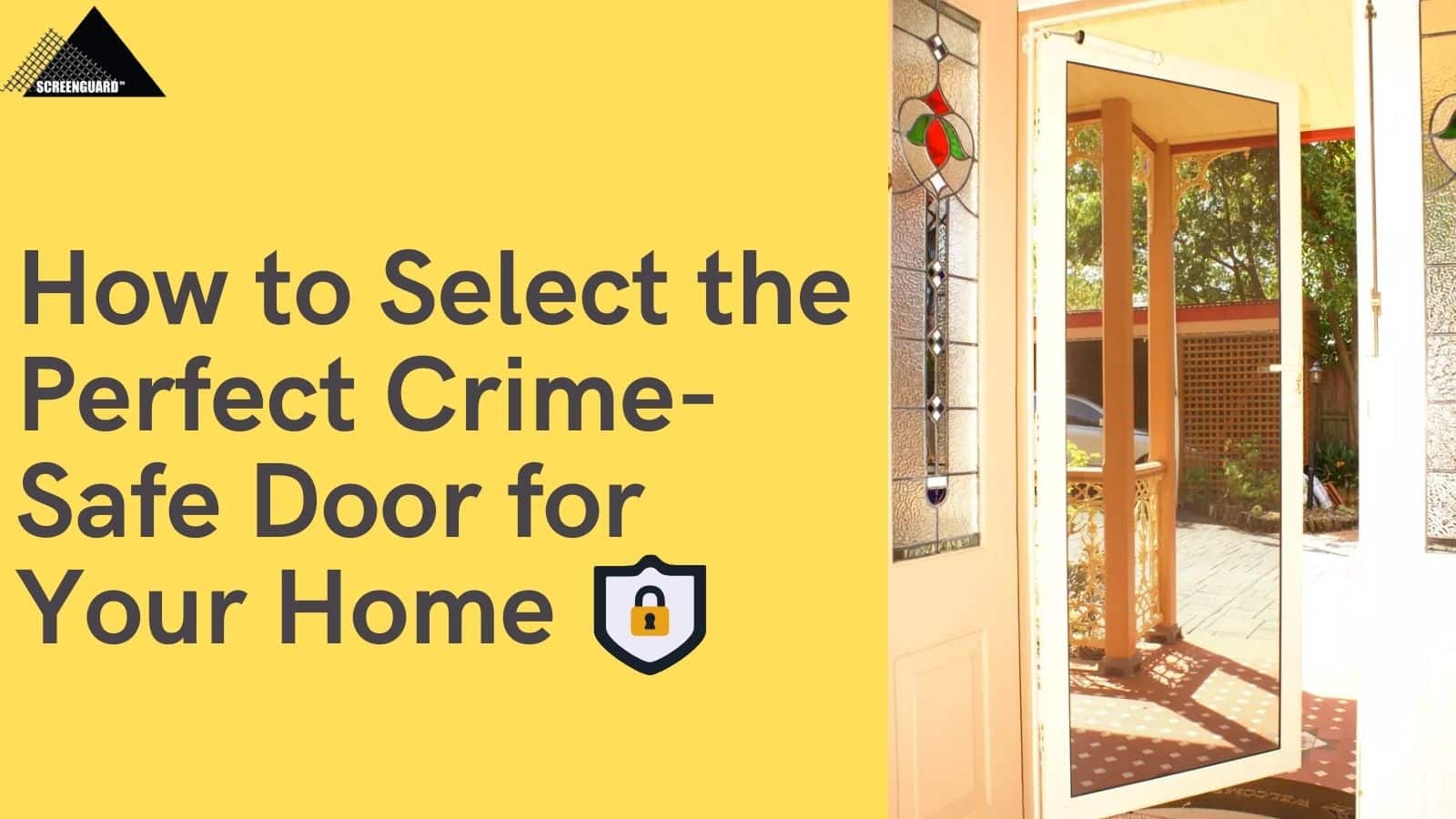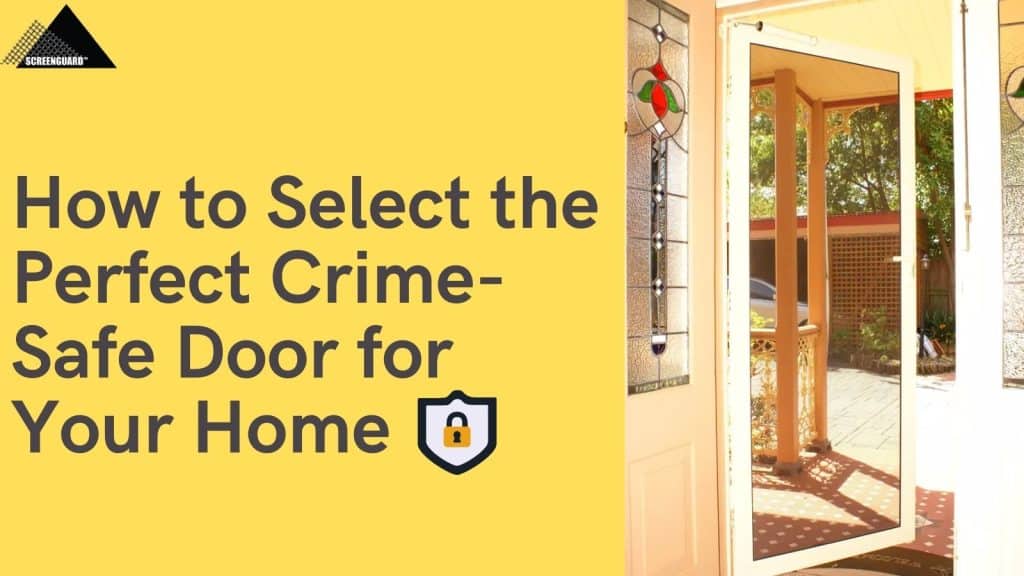 When it comes to security for your home, one of the most important aspects is ensuring that your doors are crime-safe. This means that they will be able to withstand an attempted break-in and keep your family safe from harm. There's nothing better than having peace of mind about your home being safe at all times because of the precautionary measures you've put in place. There are many different types of crime-safe doors on the market, so how do you select the perfect one for your needs? In this blog post, we will discuss the key factors you need to consider when making your decision.
Benefits Of Crime-Safe Doors
Before we get into all the questions that will determine which crime-safe door is right for you, we should discuss the benefits of Crime-Safe doors.
Enhanced Security
The most appealing advantage of Crimesafe security doors is their enhanced level of protection. The application of a unique pressure process to assemble these doors that meet industry standards prevents the entry of bugs and insects, as well as intruders, thanks to the increased levels of security.
Improved Ventilation
Sliding doors are popular because they improve the view of a structure while at the same time increasing air circulation. You can simply open your door to allow fresh air in while keeping your belongings secure.
Reduce Energy Cost and UV Heating
Crimesafe screen doors are exceptionally popular since they block the UV heat by approximately half, resulting in a more energy-efficient home. Tough mesh is included in these screens to provide an extra heat or cold protection layer for your house or business. The mesh used in Crimsafe doors is 26.5 per cent thicker than that used on normal doors.
Prevent the Spread of Fire
These security doors are not only fire-resistant, but they also stop fires from spreading in the case of an emergency. The mesh utilized in Crimesafe products prevents embers from entering your home, which is critical for properties and businesses in wildfire-prone regions. In addition, the screens block 59 per cent of the radiant heat energy.
Now without further ado, let's dive into the questions that will determine which door is right for you and your home.
What Materials Should Your Screen Door Be Made From?
A security door is designed with safety in mind. As a result, it contains unique features, strong materials, and secure locking mechanisms. A security door is the first and most necessary line of defence for your house, as over two-thirds of robberies in Australia are attributed to unlocked doors and windows. Screen doors are typically constructed of aluminium or steel. While all of these materials are strong enough to serve as a security barrier, aluminium is preferred. Aluminium is more expensive since it does not rust and has a higher grade. These screen doors can last up to 8 to 10 years if properly cared for with proper treatment and powder coating, after which they can be recoated.
What Climate Do You Live In?
Screen doors are a typical feature of homes in hot climates, both for ventilation and pest control. Some screens might not endure the elements well, and anyone without screens may inadvertently leave a window open to avoid the heat – which opens up your home to intruders and pests. Australia has some of the most beautiful weather in the world, but it also has some of the most harmful. Storms and hurricanes might be dangerous, and they frequently cause significant damage. The harsh Australian climate, with its extreme heat and strong winds, can cause corrosion. While you want a security screen door that will keep pests out of your home, you'll also want one that can handle our rigorous conditions. If your climate is a condition that would need to be factored into your decision when choosing a door, then it would be wise to consider investing in a screen door that is cyclone, debris and extreme weather resistant.
What Security Standards Are You Considering?
If a possible invader reaches your home, he or she will evaluate whether or not to continue by the security measures you have put in place. Many intruders also attempt to break in a few times before giving up. So, creating as many barriers as possible between the intruder and access to your house is critical. Fencing, gates, CCTV, alarm systems, security doors and windows are all examples of such deterrents. Your security screen door must pass certain quality tests in order to provide protection for your house. Depending on the location of your property and the crime rate within that location, you may want to consider purchasing a door that has high-grade security. In Australia, the safety standards for security screens include five strength checks, including dynamic impact, pulling, knife shear, and probing. Our products are not exempt from the same kind of safety standards. that's why all our ScreenGuard hinged and sliding doors have been tested in accordance with Australian Standards AS5039. So, if you're wanting extra protection for your home, you should consider investing in this kind of screening and door, even if it means paying a little extra.
Types Of Doors
Hinge Doors
You can't go wrong with a hinged door. These doors are the most popular and for good reason. They last the longest, have more variety when it comes to design, and are superior when it comes to safety. All our doors have the option of a triple lock kit, paired with our high-ranking materials used to create the screen guard and frame, pairs for an exceptional combo for safety.
Sliding Doors
If your home is more catered to a sliding door rather than any other design, then we have just the door for you. Our sliding doors, as well as every other door, have the option of three locking points outside of the outer frame channel. The panel is also ensured to run smoothly, making sure that your door slides perfectly throughout many years. Better yet, these doors are said to increase the amount of space you can use in your home, as well as making for a great source of natural light in the home.
Folding Doors
Screen-Fold Doors with Screenguard introduces a clear view of the outside and comes in a variety of 316 marine grade panels that unfold like a concertina against the wall. Single-leaf doors are popular in most modern residences, but they can be annoying when you want to maximize space. You can live largely with ScreenGuard screen fold doors.
We're Here To Help
Selecting the perfect crime-safe door for your home can be a daunting task. With so many options to choose from, it's important to consider all the factors that are important to you and your family. Whether you're looking for extra security or a door that is resistant to extreme weather conditions, ScreenGuard has a variety of doors that will meet your needs. Our high-grade security standards and Triple Lock Kits ensure that you're getting the best possible protection for your home. We hope that this post was helpful in making you reach a decision about which door to choose. If you're still feeling confused, don't fret. Give us a call and we can help with any enquiries and questions you may have. Our staff is super friendly and have years of experience in this industry, so you can rest assured that you receiving the right kind of guidance you deserve. So, don't wait any longer, browse our selection of crime-safe doors today. Or better yet, give us a call!